Erase HP Desktop / Laptop Password Without Being a Hacker
Hewlett-Packard continued its sprint ahead of the competition in the first quarter of 2011,
remaining the No. 1 PC vendor in the world
, according to data collected by the research firm Gartner. In my received E-mail that people ask to recover lost PC password, a quarter of people are using HP computers. So I prepare this tutorial specially for these HP users.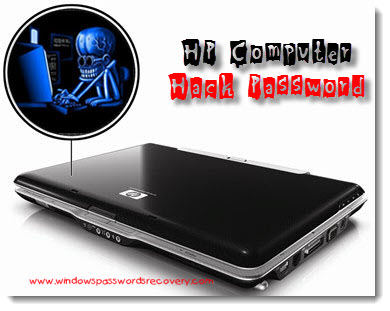 About HP
HP delivers powerful, reliable, and affordable computers to consumers, businesses, and enterprises. HP offers a wide variety of computers, including desktop computers, notebook and laptop computers, as well as genuine parts and accessories for computers.
HP Password Type
You can have some different passwords on a HP PC. Such as: the
Supervisor password
(Bios password), the
Hard drive password
(master and user), the
Power-on password
, and the
OS Password
.
Note:
Below tutorial will show you how to
hack Windows OS password
. If you want to learn more other password tricks, read: "
Different Types of Computer Password
".
How to Hack HP Computer Password?
If you have forgotten your HP password, you will need to hack it. Simply follow these steps
Step 1.
Access other PC which isn't locked, download the
Windows Password Recovery Tool Professional
, install and run it.
Step 2.
Burn a Windows password reset disk into a CD/DVD disk or a USB flash disk.
Step 3.
Connect the password reset disk with the locked Dell laptop, make sure it boot from the password reset disk, reboot the computer.
Tips:
You can read these 2 tutorial to config bios's boot sequence.
1. Set BIOS to boot from CD/DVD-ROM?
2. Set BIOS to boot from USB Flash Drive
Step 4.
Select the user account that you lost logon password, click "reset" button to begin hacking password.
Step 5.
A message box will pop up, just click "Yes", then the user's password will be hacked.
Step 6.
Disconnect the password reset disk, and reboot HP PC. You will login Windows with a blank password.
Screenshots on hacking HP Computer Password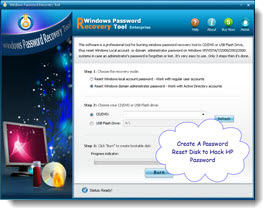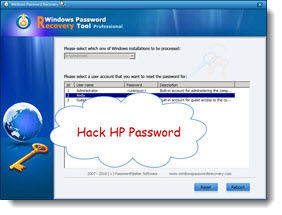 Finally
Hack HP Password
is not a difficult thing, you don't need to become a hacker. Above experiment was carried out under Windows 7, but the software also supports Windows XP, Vista, 2008, 2003, 2000.
Tips:
1.
You can
create a HP Password Reset disk
before your lost password.
2.
Keep in mind that this tool can be only used on your own PC, never try to use it to hack other person's computer password without permission. Otherwise, you will be punished by law.
3.
The
Windows Password Hacker
can help you to erase lost user login password. Click below link to try it.
Article source: http://www.windows7password.net/